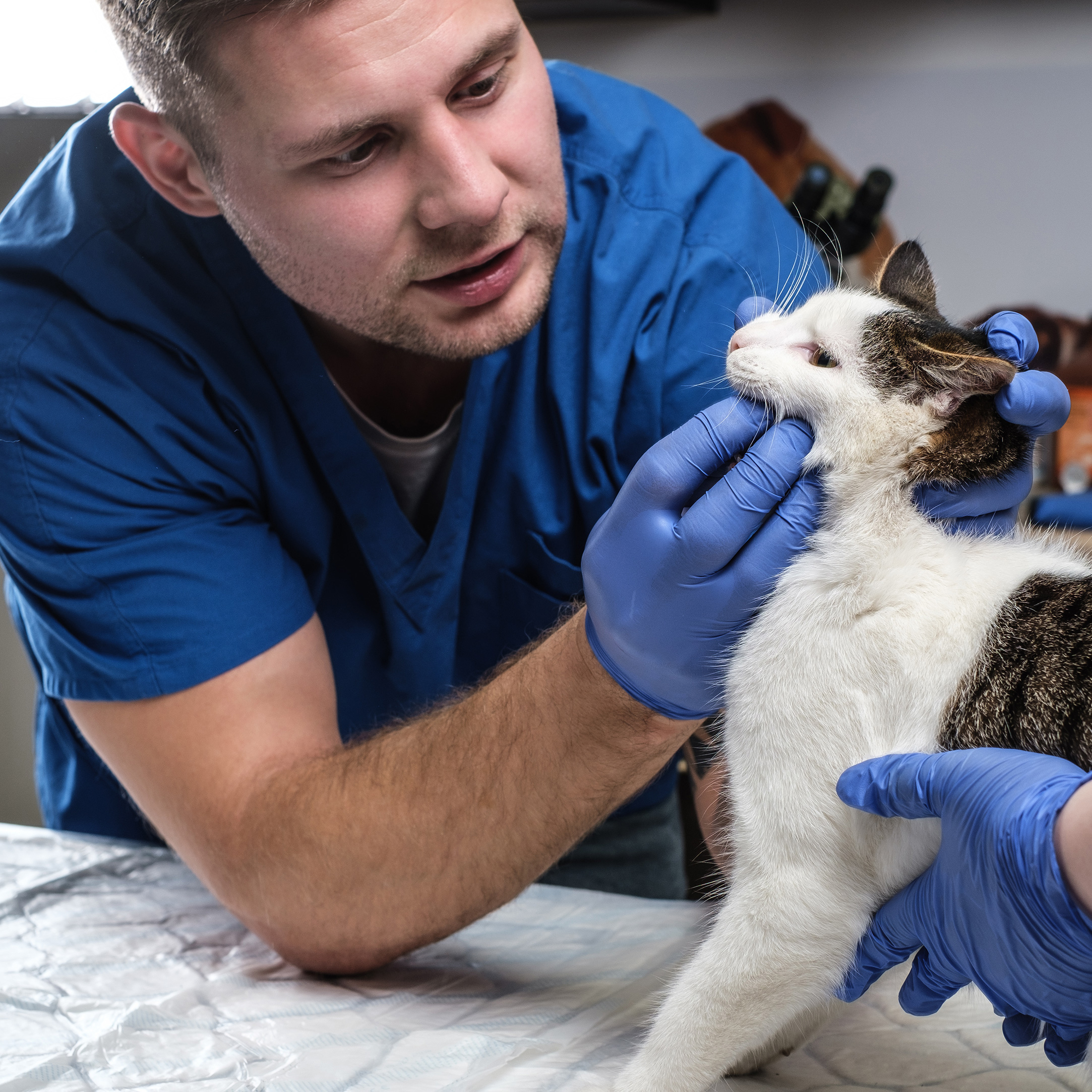 Residency Training Program Information
Thank you for your interest in furthering your training through the AVDC®. If you are interested in becoming an AVDC® veterinary dentist and have not identified an AVDC® Diplomate who is willing to be your Residency Supervisor, check the list of AVDC®-approved  Full-time Residency Programs.
Part Time Residency Program
A. The signed Residency Registration Application Form (co-signed by the Diplomate Supervisor) and fee. If this item was mailed to the Executive Seceretary, the Executive Director will scan and upload it to the DMS document. 
B. Applicant's curriculum vitae in AVDC® format. 
C. Proposed arrangements for meeting the anesthesia, radiology and surgery Specialty Training requirements. 
D. A list of the equipment and supplies available to you at you practice, indicating that you are equipped to commence the planned training program when you are working in your own practice environment. See AVDC® Initial Equipment List.
E. A list of relevant Books and Journals available to you at your practice.
F. Part time residents are required to begin their first four weeks of the program with direct supervision with their Residency Supervisor. On average, eight weeks will be required to be spent with your Supervisor each year to meet the minimum diplomate supervision requirement.
Pre 2014 alternate pathway residents documents
Part Time Initial Equipment List
Part Time Dental Chart Supervisor Form
Important for Small Animal Applicants and Residents
Dates and Deadlines for Residents & Candidates
Residency application and registration start date:
No set annual deadline.The minimum duration of a full-time residency program is 30 months. The maximum duration of a part-time residency program is six years.
Annual Report Submission deadline: Jan 31st-Oct 1st
(for residents planning to credential that year) , depending on the registration date of your residency program.
• Click here for deadline details
End of first residency year:
Submission of Radiograph Set(s)
End of second residency year:
The required radiograph set(s) must be approved by the end of the second year.
Pre-Approval Submissions: Sept. 15th – May 1st
Submission of items for Credentials Committee Pre-Approval: Equipment list, Dental Charts, Specialty Training Hours, Radiograph Sets, Publications can be submitted from September 15th to May 1st.
Pre-approval remains open to all from May 1st through September 15th, but residents will experience a delayed response in review time during this period due to credential package reviews. During this time, review priority will be given to residents submitting a credentials package by July 15th of that year.
Please note that pre-approval notifications are NOT ensured for July 15th credential packages if the resident submits later than May 1st of that year.
Credentials Applications Deadline: July 15th
July 15th each year for full- or part-time residents. Applicants whose applications are approved by the Board are then Candidates, eligible to take the examination the next time it is given.
Full-time residents who have completed all residency program requirements except the full 30 month program duration requirement can submit a credentials application by July 15th; if the application is approved as complete except for the 30 month requirement, Provisional Approval will be granted, with the stipulation that the Residency Program Director must confirm that the applicant has met the full 30 month residency requirement before full Approval is granted. Upon Provisional Approval being granted, the applicant becomes eligible as a candidate to take the Phase I examination at the next opportunity. 
Please note that if a full-time resident's start date is after August 31st, they will not be able to obtain the 30-month requirement by February 28th of the third year and will then be ineligible for Provisional Approval. 
Form CRED 512 must be completed and uploaded in DMS following satisfactory completion of 30 months of a full-time residency training program, for those residents whose credentials were provisionally accepted. This form must be completed for residents whose credentials packages were provisionally accepted, to permit sitting for the Phase 2 examination. The annual deadline to complete this form is February 28th of the year following provisional acceptance of credentials.
Examination Security Form and Fee – Phase 1: Oct. 31st
The signed form and examination fee are to be submitted to the Executive Director by October 31st for the Phase 1 Examination
Phase 1 Examination: January 11-12, 2024
Multiple choice questions written examination, given online at regional examination centers. January 11-12, 2024
Examination Security Form and Fee – Phase 2: March 1st
The signed form and examination fee are to be submitted to the Executive Director by March 1 st for the Phase 2 (practical examination). Candidates are eligible for entry to the Phase 2 examination only after passing the Phase 1 examination.
Phase 2 Examination: June, 2024 (exact dates TBA)
Given at the Oquendo Education Center, Las Vegas.
June, 2024
Credentials Application decisions:
Credentials application decisions are made by the Board based on recommendations from the Credentials Committee. This typically occurs in late August/early September. Applicants whose applications are approved by the Board are then Candidates, eligible to take the examination the next time it is given.
Examination Results and Recognition as a New Diplomate
Examination results are usually distributed to candidates 3-5 weeks following the examination.
Formal commencement of Diplomate status:
Candidates who have passed both parts of the examination become diplomates on the date on which the examination decision letter is distributed. They are listed in the AVDC® Diplomate online Directory at that time.
Presentation of diplomas to new diplomates: 
This occurs during a public session at the start of the Annual Meeting of the College, which will be held on the Wednesday afternoon of the Veterinary Forum weekend.
VDC documents available on this web-site are revised to be in concordance with the most recent Changes document released in December or January of each year – date-sensitive documents such as Application Forms will include a "Released: DATE" or similar notation at the bottom of the document. If in doubt about current AVDC® policy or documents, send an email note to ExecSec@AVDC®.org.
Registration by AVDC® is, of itself, not an assurance of the quality of training, or that the applicant will successfully complete the AVDC® credentialing and examination requirements.
English is the official language of AVDC®. All documents, forms and examinations provided by AVDC® are written in English, and all materials submitted by applicants and residents are to be written in English.
Use of Specialty Titles: The AVMA Principles of Veterinary Medical Ethics state: It is unethical for veterinarians to identify themselves as or in any way imply that they are members of an AVMA recognized specialty organization until such time as such certification has been awarded. AVDC® has adopted the Guidelines for Use of Specialty Titles, prepared by the American Board of Veterinary Specialties of the American Veterinary Medical Association.
By signing the AVDC® Training Program Registration form, an individual submitting an application for registration of a training program acknowledges that s/he may not use the terms 'board eligible', 'board qualified', 'veterinary dental specialist' or 'veterinary dentist', and may not make or imply any connection with AVDC® until such time as the individual passes the AVDC® examination and is awarded the AVDC® Diploma.
The registration of an AVDC® training program of an individual who is not in compliance with the policy stated above may be terminated by AVDC®, in which case the individual will not be permitted to complete the AVDC® credentials and/or the examination procedures, and, when appropriate, the circumstances may be reported by AVDC® to the individual's State Board of Veterinary Medical Examiners.