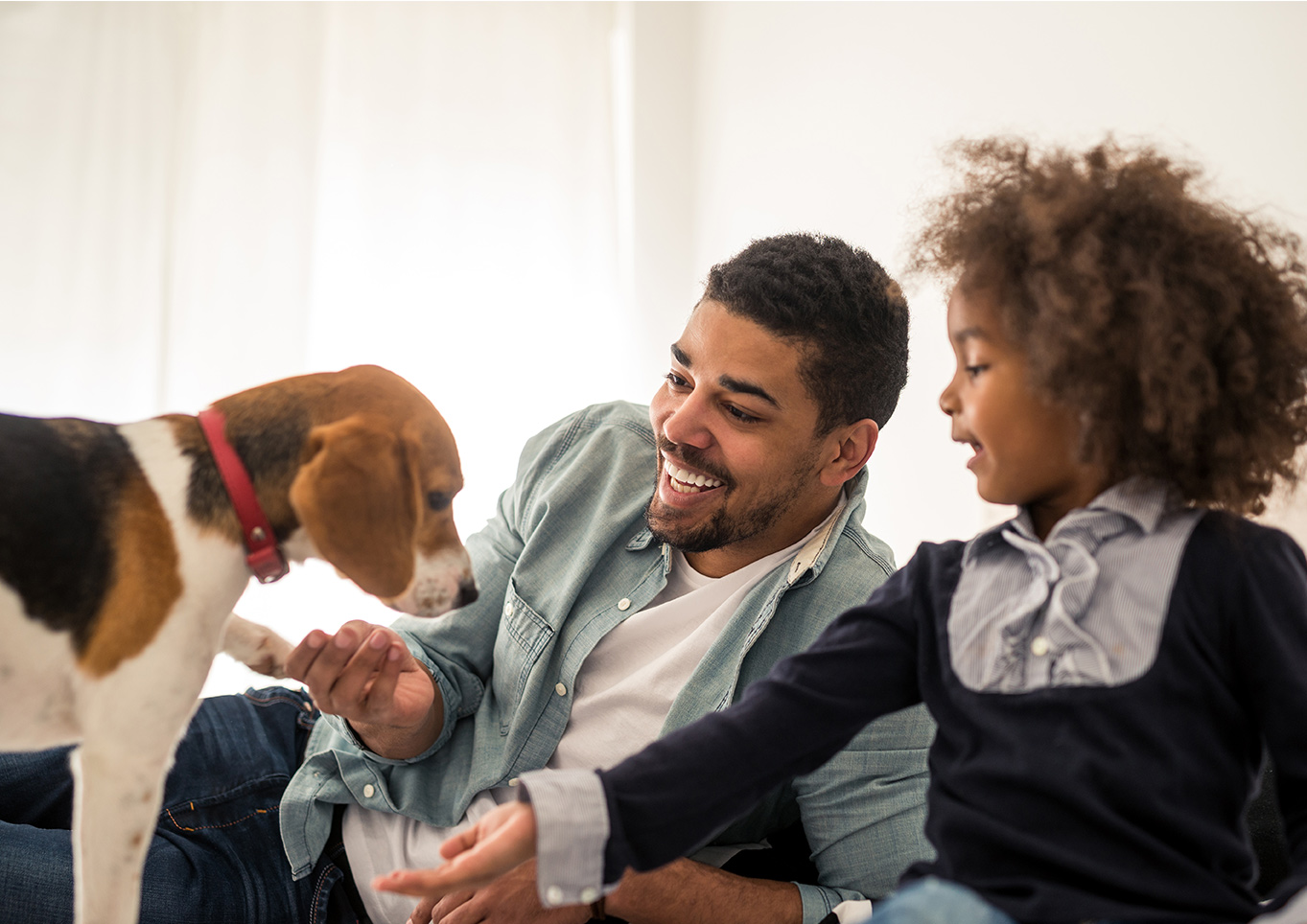 We know your pet or companion animal is important to you and you want what's best for your friend.
Veterinary Dental Specialists work with your general practice veterinarian to find a solution for your pet's oral health needs.  Oftentimes more advanced imaging or advanced procedures like root canal therapy by a Board Certified Veterinary Dentist™ may benefit your pet in giving them a lifetime of healthy smiles and  full function.
Veterinary Dental Specialists also have training to provide dental care for patients that general practice veterinarians may not be comfortable placing under anesthesia due to concurrent problems like heart murmurs,  kidney disease, or cancer. Our specialists can work with you to find a safe solution and work quickly to provide the best quality of life for your pet, regardless of age.
What is an AVDC® Board Certified Veterinary Dentist™?
The title of Board Certified Veterinary Dentist™ signifies the veterinarian has taken an extensive examination, reviewed by a Specialty Board, the American Veterinary Dental College® Board, after completing a dental residency and all credentials necessary and passed the examination.
To be eligible for this examination the veterinarian has to have completed veterinary school (usually a 4 year program after college), completed a one year internship and several years in a formal dental residency. After all these steps the AVDC® veterinary dentist may use the title "Board-Certified".
A Diplomate of the American Veterinary Dental College® (AVDC®) is a veterinarian who has been certified by AVDC® as having demonstrated specialist knowledge and expertise in veterinary dentistry as a result of completing the AVDC® training requirements and having successfully passed the AVDC® examination.
AVDC® is recognized as the specialist certification organization in veterinary dentistry in North America by the American Board of Veterinary Specialties. AVDC® diplomates are veterinary dental specialists.
The American Veterinary Dental College® (AVDC®) is the clinical specialist organization for veterinary dentists, recognized by the American Board of Veterinary Specialties of the American Veterinary Medical Association. For more information on veterinary specialists, go to the ABVS page on the AVMA web site.
When should you see a specialist?  
Many specialists see patients on a referral only basis and receive patients after a primary care veterinarian has made a formal referral or recommended the owner/animal care giver seek expert advice. 
Common reasons for referral to a specialist include special needs patients, advanced procedures like root canal therapy, difficult extractions, multiple extractions, stomatitis cases, oral masses or tumors, severe trauma, advanced periodontal disease, jaw fractures, or orthodontic consultations.
Sometimes animal owners seek advanced procedures like a root canal treatment for fractured teeth rather than scheduling extraction with their primary care veterinarian or may desire intra-oral radiographs or CT imaging.
Often animal owners seek the advice of a dental specialist when they want to know all the options for oral care or to receive a second opinion.
Questions you can ask at your consultation:
Do you have intra-oral radiographs?
Intra-oral radiographs are made using small radiographic films or digital sensors placed inside the patient's mouth.  They provide superior quality images for examination of individual teeth or sections of the jaws compared with standard-sized (whole body) veterinary radiographs. Because veterinary patients will not cooperate when a radiograph or sensor is placed in the mouth, taking dental radiographs requires that the patient is anesthetized
Find a Veterinary Dental Specialist
Anesthesia Free Dentistry
Find Answers to your Questions
What kind of procedures does a Veterinary Dental Specialist perform that my veterinarian doesn't?
Common procedures performed by a veterinary dental specialist include advanced extractions, oral surgery to remove tumors, root canal therapy to save fractured teeth, restoration of teeth with metal crowns or zirconium crowns, treatment of malocclusions (crooked teeth or jaws), and anesthesia of patients with systemic illness or concurrent diseases that need special care.
Many primary care veterinarians provide dental services like dental prophylaxis, also called "dental cleanings", perform extractions, take intra-oral xrays, and some offer advanced procedures. You will need to talk with your veterinarian about the level of dentistry they offer.
When should I go to a Veterinary Dental Specialist?
Every veterinarian has a different familiarity and training with veterinary dentistry.  Some veterinary colleges have formal training programs where veterinary graduates have exposure to advanced procedures but greater than 50% of veterinary colleges have less than 4 hours of instruction in veterinary dentistry.1   It is always ok to ask if your pet would benefit with a consultation with a Veterinary Dental Specialist.
Anderson JG, Goldstein G, Boudreaux, Ilkiw JE. The State of Veterinary Dental Education in North America, Canada, and the Caribbean: A Descriptive Study.
J Vet Med Educ. Summer 2017;44(2):358-363.
Why does my pet have stinky breath?
Bad breath or halitosis can be a sign of dental disease.  See your veterinarian if you notice bad breath from your pet.  Healthy mouths do not have an odor.  "Doggy breath" is so common that many people do not realize it is a sign of dental disease.
My veterinary says he/she has advanced training in dentistry but I do not find their name in your list?
If you are not able to find your veterinarian  on our list you can contact our office to see if they are Board Certified by the AVDC®.
Does the College treat animals for free?
The College is not a physical location, but rather an educational organization that trains veterinarians and certifies them in the specialty of veterinary dentistry.  Click the link to Find a Veterinary Dental Specialist to find a specialist near you to schedule an appointment.
Universities and Colleges of Veterinary Medicine often has research projects where some fees may be reduced but, in general , Colleges do charge to cover their expenses.
Does it matter if xrays (radiographs) are taken during a dental procedure?
Just like a visit to your dentist, xrays help the doctor diagnosis the problem that may be hidden below the gum-line.  Teeth that are non-vital (dead) often need xrays to see the problem.  Xrays also show infected teeth and how much bone loss is present.  Xrays help the doctor evaluate extraction sites and bone quality.
What should I ask before my Pet has a Dental Procedure?
How is my pet monitored under anesthesia?
Is the pet intubated and their airway protected from debris?
Who will be monitoring the anesthesia?
How often do you perform this procedure?
What equipment do you have to perform this procedure?
Does my pet need advanced imaging like intra-oral radiographs or CT?
Do you use sterile equipment on each patient?
Who performs your surgical extractions?
Are there alternatives and options to treat my pet's disease or problem?
Could a root canal be performed to save any fractured teeth?
What are the risks and complications associated with this dental procedure?
Who will be with my pet as it recovers from anesthesia?
Does your facility offer 24 hour care?
Who do you refer to if my pets needs 24 hour care?
What is the Foundation for Veterinary Dentistry?
The Foundation is an inclusive organization for anyone interested in supported veterinary dentistry. These individuals, donors, and contributors to our foundation desire to make oral health a priority in relieving animal suffering, improving the quality of life for all living creatures, and advancing the art and science of veterinary dentistry.
Our contributors and subscribers are veterinarians, veterinary technicians, veterinary assistants, practice managers, industry leaders, vendors, philanthropists, wildlife biologists, researchers, and pet owners.  Many veterinary dental specialists volunteer with the Foundation and donate to their education programs.